The nature of the project and project participants necessitated a dual set of project goals. First, student training was of paramount importance. The primary objective of the Geosciences 497J/597J course is to train students (undergraduate and graduate) and professionals in the collection, analysis, and interpretation of dendroarchaeological samples. This goal was clearly met: the course involved lectures on dendrochronological theoretical and methodological principles, and the field portion presented "real life" technical, logistical, and methodological problems for the students to solve. It also provided the opportunity for students to work as a team in a field setting as they received training and practice in standard dendroarchaeological sampling techniques. Finally, the laboratory analysis portion of the course taught the students the basics of wood species identification and crossdating, and allowed them to develop their own interpretations of the data collected in the field.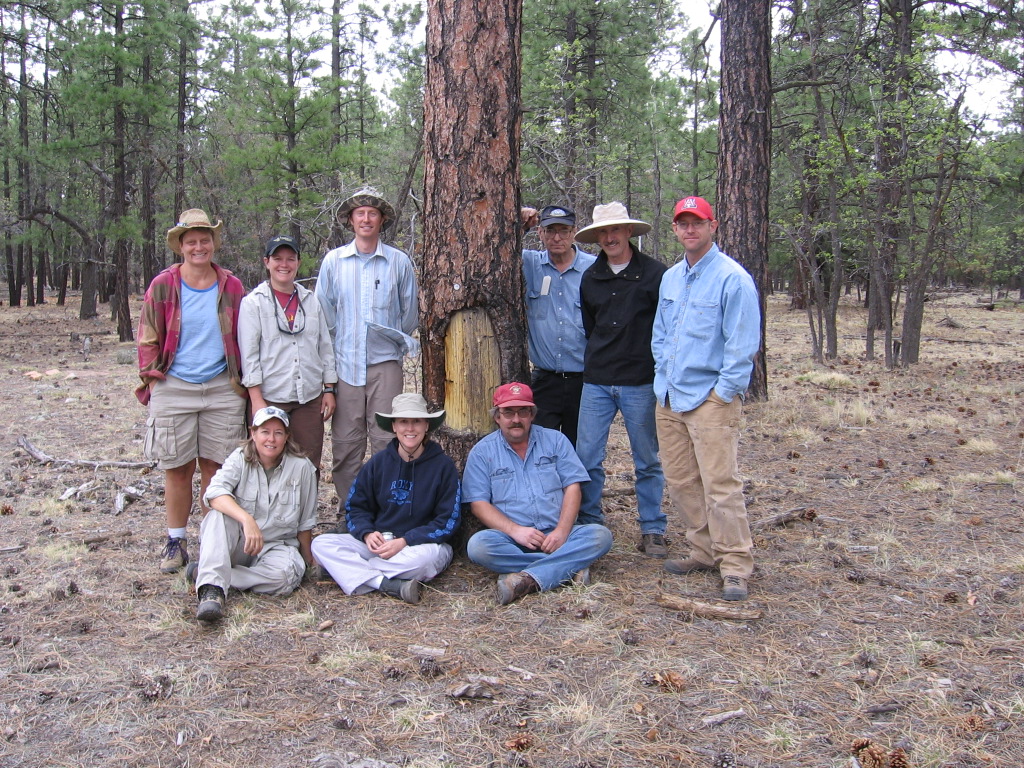 Dendroarchaology in the Zuni Mountains, 2006 photo by S. Gallassini
In terms of the specific sites investigated, our goals were strictly dendroarchaeological. We wanted to glean as much chronological, behavioral, and environmental information from the sites and samples as time allowed. We conducted no additional archaeological documentation or analysis beyond that necessary to interpret the contexts of the tree-ring samples. In the chronological realm, we wanted to learn when the sites were initially founded, how long they were occupied, and when they were abandoned. In terms of behavior, we were interested in the site occupants' view of wood as a resource—which species did they exploit for which structures and architectural elements? What tools and methods did they use to procure and modify wood to meet their needs? Did they preplan construction and stockpile timbers? Did they repair and/or remodel structures? Dendroarchaeological samples contain two types of environmental information: climatic and distributional.

A dendroclimatic reconstruction was far beyond the scope of this project, although Grissino-Mayer's (1996) El Malpais reconstruction provides relevant data. The tree species exploited by the site occupants are the results of both cultural choices and environmental availability, and we noted—but not in any formal systematic fashion—the locally available species near the sites. Finally, the excellent documentation of the homestead by BLM volunteers allowed us to conduct "casual repeat photography" research as well.