Program Overview
The Laboratory of Tree-Ring Research (LTRR) at the University of Arizona is the only institution active in most aspects of dendrochronological research including world-wide chronology building, dendroclimatic and dendrohydrologic reconstruction, dendroecology, isotopic and trace element analysis, and providing dated wood samples for calibrating the radiocarbon time scale.
A major component of the Laboratory's research program is the analysis and dating of wood and charcoal from prehistoric and historic archaeological tree-ring materials, the only source of dendrochronological dates in western North America, and the largest repository of archaeological tree-ring samples in the world. The integration of the dating program into the full range of dendrochronological activity at the Laboratory creates a unique interdisciplinary situation that maximizes the scientific value of archaeological tree-ring samples and chronologies.
Since 1950, LTRR has maintained an analysis program that processes all tree-ring material submitted for study and produces all valid dendrochronological dates now available to Southwestern scientists.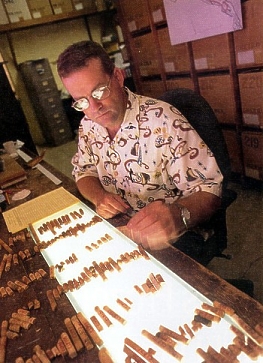 Jim Parks prepares to analyze one of hundreds of core samples collected at Mesa Verde National Park, Colorado. (Photo by John Florence.)
History
Archaeological tree-ring dating originated in 1917 when Andrew Ellicott Douglass, the founder of dendrochronology, first examined prehistoric wood samples. Twelve years later, the "bridging of the gap" at Show Low, Arizona joined dated living-tree and "floating" archaeological chronologies and inaugurated routine archaeological tree-ring dating.
In 1937, the University of Arizona established the Laboratory of Tree-Ring Research to perpetuate Douglass' dendrochronological research. After World War II, the Laboratory acquired all other Southwestern archaeological tree-ring collections - Museum of Northern Arizona, Gila Pueblo, Laboratory of Anthropology, Navajo land Claim and I. F. Flora - and the Robert E. Bell Collection of samples from the eastern United States. At the same time, LTRR's own Douglass Collection continued to grow through regular submissions. As a result, the Laboratory has become the repository for all Southwestern archaeological tree-ring material and many samples from elsewhere.
LTRR houses more than 360,000 archaeological samples from the Southwest, the Great Basin, the Great Plains, the Midwest, Alaska, Mexico, and the Near East. These research collections provide the ultimate certification of the dates and constitute an unmatched reservoir of materials for further archaeological and dendrochronological research.
The consolidation of archaeological tree-ring collections at LTRR provided the opportunity for an integrated study of all Southwestern tree-ring material. Between 1963 and 1975, the "Dendrochronology of Southwestern United States" project (supported by NSF grants GS-247, 908, 2232, and 35086) organized and reanalyzed the extant collections, an exercise that quadrupled the numbers of dated samples and sites. Between 1966 and 1975, the results of this work were published in 16 "Quadrangle Reports" that list all valid dates available at the times of publication. As a result of these and subsequent analyses, the continuous regional ring chronology has been extended back to 322 B.C., and more than 60,000 dates have been derived from more than 5,000 sites.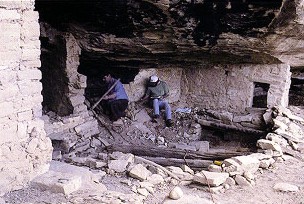 Jeff Dean and Ron Towner collect tree-ring samples from 20-½ House, Mesa Verde National Park, Colorado. (Photo by Jim Parks.)