Dennie O. Bowden III (Research Specialist, Senior)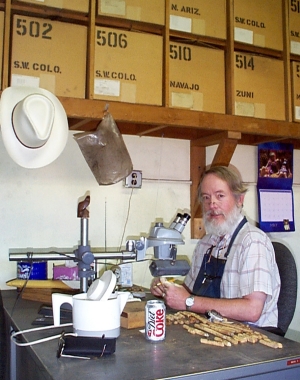 Mr. Bowden earned B.A. and M.A. degrees in anthropology from The University of Arizona in 1967 and 1973, respectively. He began his career in dendrochronology in 1967 as an undergraduate on the staff of C. W. Ferguson where he became proficient in the analysis of bristlecone pine samples from various areas of the Great Basin. After graduation and service in the Army, he returned to the the University as a graduate student and, in 1970, resumed working for Ferguson and D. A. Graybill.
In 1972 he transferred to the archaeological research program and in 1985 became the principal dendrochronologist on the NSF-sponsored "Southwestern Archaeological Tree-Ring Dating" project, a position he still holds. During his tenure at the LTRR, Bowden has participated in numerous field operations, including bristlecone pine collecting with Ferguson, Graybill, and V. C. LaMarche and, under the supervision of J. S. Dean and W. J. Robinson, geological sampling with the Colorado Plateau Paleoenvironmental project, archaeological sampling on the Grand Gulch, Walpi, and Acoma projects, and living-tree sampling for various stages of the Southwest Paleoclimate project.
In addition to bristlecone pine, living-tree and archaeological sampling and dating, Bowden's experience includes preparing samples for radiocarbon and trace element analysis and checking other technicians' dating and chronology building. This extensive background has made Bowden one of the most accomplished and productive dendrochronologists in the world. In the words of an NSF proposal reviewer, Bowden "ought to be classified as a national treasure." In the year 2000, Bowden was presented by the LTRR with its Lifetime Service Award.